Aloha Browser
Aloha Browser is a multi functioning browser for iOS and Android. That offers the possibility of browsing and With fast free and unlimited VPN.
Privacy is one of the fundamental human rights that should not come at a cost.
But smartphone users have to pay a fee to enjoy a private digital life.
This is where Aloha Browser makes a difference for iOS and Android users.
A web browser with unlimited free VPN usage has been lagging for a long time.
Aloha Mobile developers listened to the public demand and brought a perfect web browser for both iOS and Android users.
Working of Aloha Browser
This browser has a very simple interface and as soon as we open it we will find the search bar.
As well as a series of websites recommended by the application such as Facebook, Twitter or Wikipedia.
Next to the search bar and this is the feature that differentiates this browser we find an icon of a shield.
If we press it the app will request permission to add the VPN integrated in the browser to our device.
If we choose to add it the next time we press the shield icon we can activate the VPN and in the same way we can deactivate it.
This VPN as is obvious can also accessed from the Settings of our device.
At the bottom of the app we find a bar in which there are a series of icons.
Among which we find the arrows that allow us to go back and forth in the navigation as well as access our favorites.
If we press the icon with three stripes that is in the central part of the bar we will access another menu.
From which we can see our downloads as well as the history the bookmarks and access the browser settings.
Finally if we press the last icon on the bar we can see the open tabs in both normal and private mode.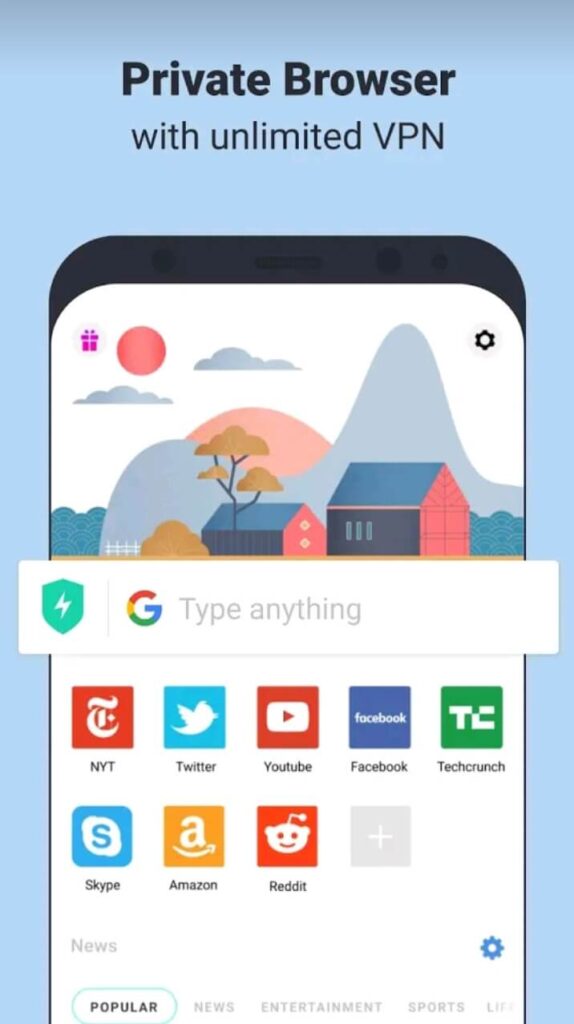 Aloha Browser can found completely free of charge on the Play Store and App Store.
You can also download this fantastic browser with apk in this article.
Characteristics
The browser itself has several features that we see today in other popular browsers.
Such as being able to open several pages in different tabs.
It also includes a download manager that allows you to download and view content. Such as movies listen to music and other types of files.
The web browser includes many great features.
That makes your browsing experience smooth and safe.
Additionally Aloha boasts an interactive yet simple user interface for users of any age and understanding.
Pre installed icons from Google, Facebook, Amazon, and Twitter. You can access these websites without having to type their URLs.
User interface
At first users can get caught up in the Aloha web browser interface on their iPhone or iPad.
But spend a few seconds there and the app itself pays off the best features.
You can get everything while tapping and browsing websites.
The prominent search bar grabs your attention immediately so you know you need to type your website URLs there.
For your daily dose of news Aloha offers you quick buttons for content categories viz, news, entertainment, sports, money, lifestyle, health, travel and automobiles.
You can browse websites according to your interest.
Security
More security for you unlike other web browsing applications Aloha allows you to lock the application with a passcode.
You are not supposed to use any third party lock app as you can set your passcode from Aloha Settings.
Once you set the passcode the app prompts you to enter it every time you open the Aloha app.
You can apply the same for Face ID or Touch ID.
Your personal information on Facebook, Twitter, and Gmail remains secure.
If you access these websites in the Aloha web browser.
Download images / videos
Aloha has a built-in download manager.
Which enables you to manage your downloaded images and videos.
The best thing about this download management tool is that. It is inaccessible to other applications.
On your iPhone or iPad Aloha creates a private folder.
Which cannot accessed by other applications. You can save your large or small files in this folder and rename the folder.
Unlimited VPN
The free and unlimited VPN is one of the most obvious features of the Aloha web browser.
This is useful when you travel and want to use a virtual private network.
Instead of downloading and subscribing to a VPN for a week or month.
Using Aloha is a better option as the app offers unlimited VPN at no more cost.
tap on the VPN icon before the search bar and grant the necessary permissions to the app; now you're ready to go.
Please note that when you close Aloha, the app will disable the VPN.
So next time you need to tap on the VPN icon to enable this feature before browsing websites.
Aloha compresses and encrypts VPN traffic to use less bandwidth.
Alternative of Aloha Browser
Opera Browser has always been a web browser with a futuristic vision.
That is an application having features that are later adopted by other web browsers.
A good example of this is the Quick Access feature ( Speed ​​Dial ) and most likely soon the VPN inbuilt feature to secure your privacy.
Comparison
Aloha Browser and Opera Browser
Both have common features i.e. multi functioning browser or navigation technology.
So that the user experience is not very different.
The most important difference between Opera and Aloha Browser is that.
The Opera browser has the feature to adjust the width of the text so that you don't have to be side scrolling.
Although there should be no doubt that the Aloha browser takes less time to start up.
It makes the network management better.
But the application is more simple with interface even after having several features.
Disclaimer :- getgadgets.in does not own this App/APK, neither developed nor Modified. We just providing the link already available on internet. Betterapk.net is in compliance with 17 U.S.C. * 512 and the Digital Millennium Copyright Act (DMCA). It is our policy to respond to any infringement notices and take appropriate actions. If your copyrighted material has been posted on the site and you want this material removed, Contact us.